All four teams win semifinal contests, move on to state championship games
YAKIMA – Four Tribune-area teams entered the Yakima Valley SunDome on Friday with dreams of playing for a state title a day later.
There will now be at least one Whatcom County team playing in three of the four 1A and 2A state title games set to tip-off Saturday, as all four teams won their semifinal contests.
Whatcom is guaranteed one state champion, as two of the teams will be facing one another in their third meeting of the season.
A breakdown of all four semifinal games is below.
1A boys state semifinals: No. 2 Lynden Christian 53, No. 3 Life Christian Academy 49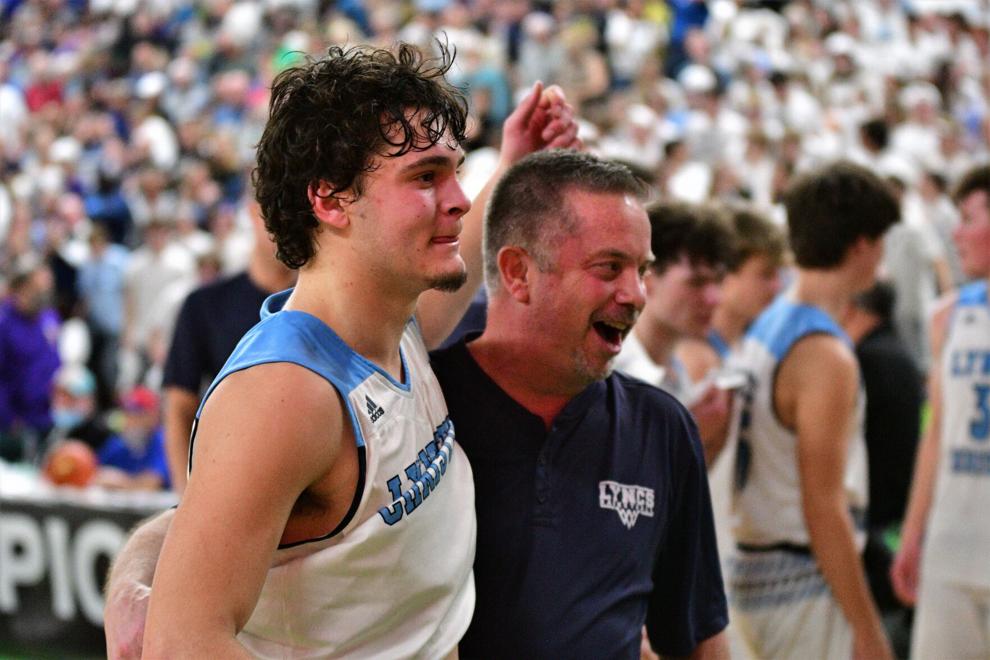 As the first of two Lynden Christian teams to hit the court Friday, the boys endured a tough test.
For senior Crew Bosman and the other Lyncs who have been waiting for this opportunity since the team's loss to King's in the 2020 title game, it's all they could have hoped for.
"It means the most to me," Bosman said following the 53-49 win. "This is what I dreamed of as a child. Being on the big stage tomorrow, it's going to be great."
Life Christian Academy controlled much of the first half, but the Lyncs were able to pull within one point, 26-25, by halftime.
"We stayed the course, again and again," said LC's head coach Tim Zylstra. "In the first half, I didn't feel like we played that well."
Zylstra said the team missed a lot of shots they are accustomed to making, which made it tough to play their normal game. They knew they were still in it at the half.
LC again trailed after three quarters, 38-34. The Lyncs began to adjust to the pressure Life Christian was showing them, and junior Tyler Sipma took the brunt of much of it.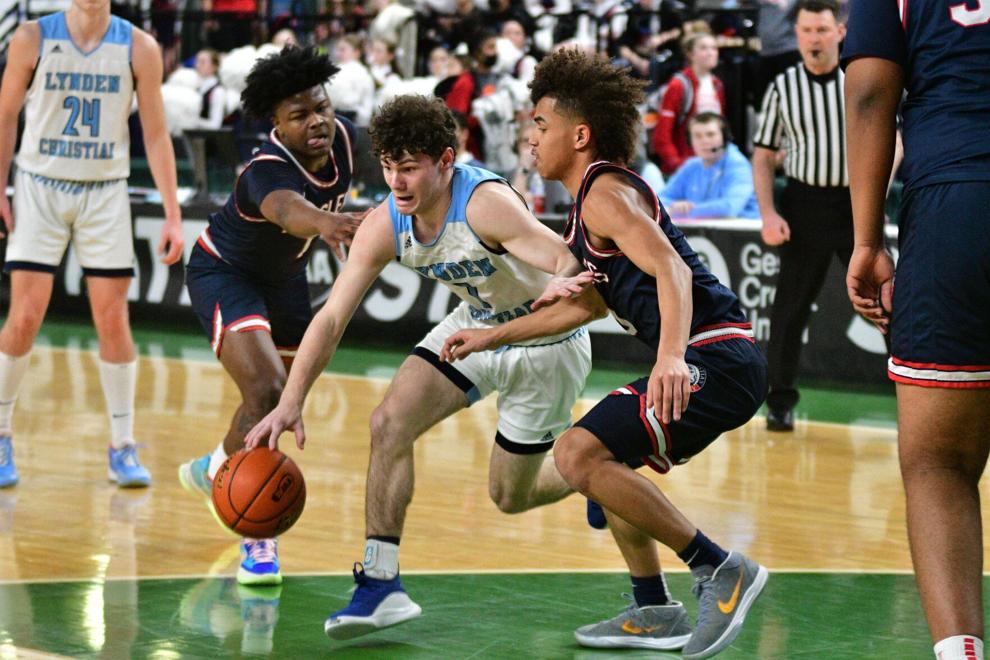 "Tyler controlled tempo, after awhile it was to the point where we weren't able to get into some of our stuff because of so much pressure," Zylstra said. "We kind of just released him … it's almost like when we would slow him down, we were turning it over."
Sipma and seniors Andrew Hommes and Crew Bosman were key for LC down the stretch. The trio scored 14 of the Lyncs' 15 points in the fourth quarter, which were nearly all key buckets at the perfect time.
Trailing 42-41 with under five minutes remaining in the game, Bosman and Hommes single-handedly engineered an 8-0 run that placed the Lyncs in firm control for the first time the entire game.
Bosman converted an and-one with just under two minutes remaining that sent the bench and LC faithful into a frenzy. The Lyncs suddenly led 49-42 deep into crunch time.
"We were just sticking as a team that whole game," Bosman said. "Just trusting our teammates and getting it inside and relying on others to score."
Life Christian missed key free throws down the stretch that would have narrowed the gap. Hommes drilled two to extend the lead to six, and the Lyncs hung on for the come-from-behind win.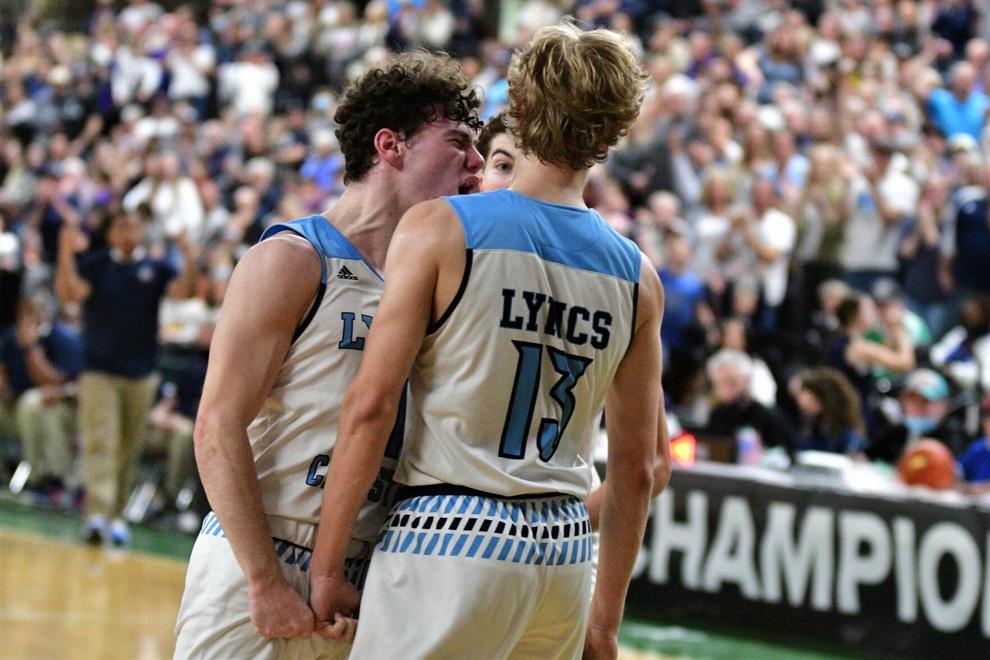 Hommes posted his second straight double-double of the tournament in as many games, totaling 16 points and 10 rebounds. Sipma finished with 14 points, 5 rebounds and 5 assists, as Bosman tallied 10 points and a steal.
Sophomore Jeremiah Wright finished with 6 points and 2 rebounds, while senior Jamison Hintz had 5 points, 2 rebounds and 2 assists.
LC will rematch No. 1 King's in the 1A state championship game on Saturday, March 5, at the Yakima Valley SunDome. Tip-off is set for 7 p.m.
1A girls state semifinals: No. 1 Lynden Christian 57, No. 4 Montesano 32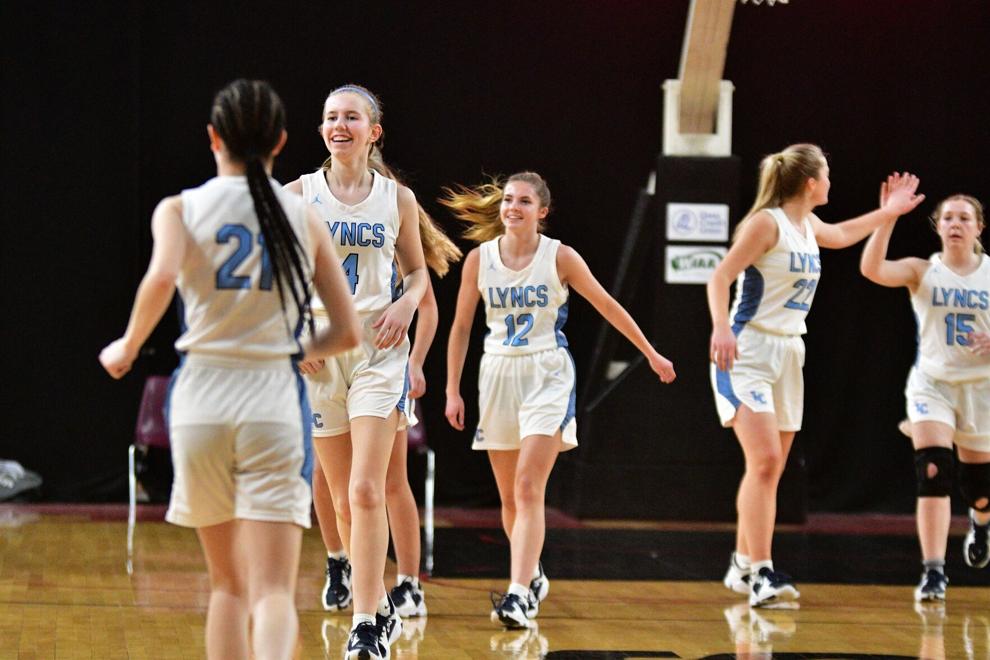 When the competition should be its toughest, Lynden Christian showed why they were the top-ranked 1A squad in the state.
"It's crazy, it feels like I blinked and now I'm a senior and this is going to be my last high school game tomorrow," said Lyncs senior Libby Stump following the 57-32 win. "I'm just excited, I love these girls and I'm so excited to go play in a game like this with this team. It's going to be so special no matter the outcome."
The Lyncs never trailed, dominating Montesano from wire to wire. Their best played the best, and LC is off to round three against Nooksack Valley.
From where this team began at the beginning of the season, starting 0-2 and then 3-3, it has been a long journey.
"I am incredibly proud of the girls in that locker room," said LC's head coach Brady Bomber. "They've worked extremely hard from when we got together in late June when our season ended last year — to the first day of practice, to a non-conference schedule that was not easy that challenged us and gave us a lot of adversity. "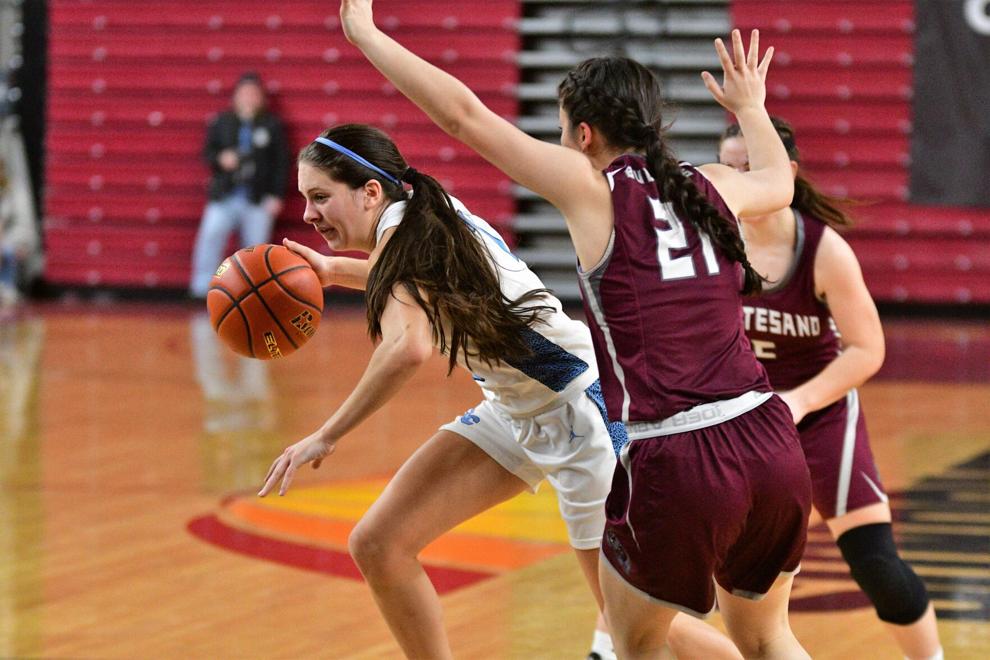 LC led 30-14 just before halftime when junior Demi Dykstra drilled a buzzer-beater 3-pointer to make the lead 19 at the break. 
It only grew from there in the third. Senior Libby Stump, Dykstra, and freshman Grace Hintz kept the pressure up, resulting in a 50-26 advantage after three quarters.
The Lyncs were able to deploy their bench not far into the fourth quarter, including senior Alli VanKooten, who has now appeared in both the Lyncs' games of the state tournament near the end. 
VanKooten suffered a knee injury in LC's Jan. 27 game against Lynden and hadn't taken the court since. In a terrifying moment, she took awkward contact from a Montesano defender in the semifinal game, looking like she may have seriously aggravated the injury. It was a heart-stopping moment.
The LC coaching staff said after the game that she is OK and pain-free in the injured leg. She was able to walk on her own after the shock subsided.
LC cruised into the win, securing a state title berth against a familiar foe.
"Whatever happens, happens," Stump said. "We'll just do our best to get ready right now, get our bodies ready tonight and be ready to go out and compete as hard as we can tomorrow."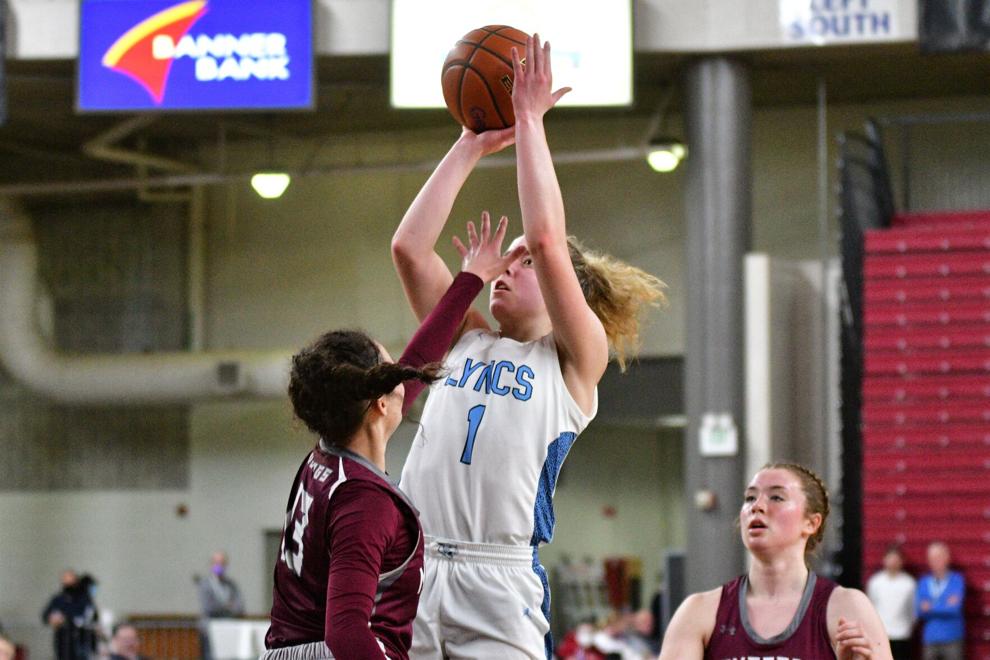 Stump finished with a game-high 21 points, 6 rebounds, 4 assists and 2 steals. Dykstra totaled 14 points, 3 rebounds and a steal as Hintz finished with 13 points and 5 rebounds.
The Lyncs will face No. 2 Nooksack Valley, whom they have each taken one game in the season series, in the 1A state championship game at the Yakima Valley SunDome on Saturday, March 5. Tip-off is set for 9 p.m.
Bomber couldn't be prouder of his team for reaching this point.
"They've improved every day, they stuck together and as a coach, what more can you ask?" he said. "They treat each other well, they work hard, they celebrate others, and I think that's what it's all about."
1A girls state semifinals: No. 2 Nooksack Valley 60, No. 3 Cashmere 38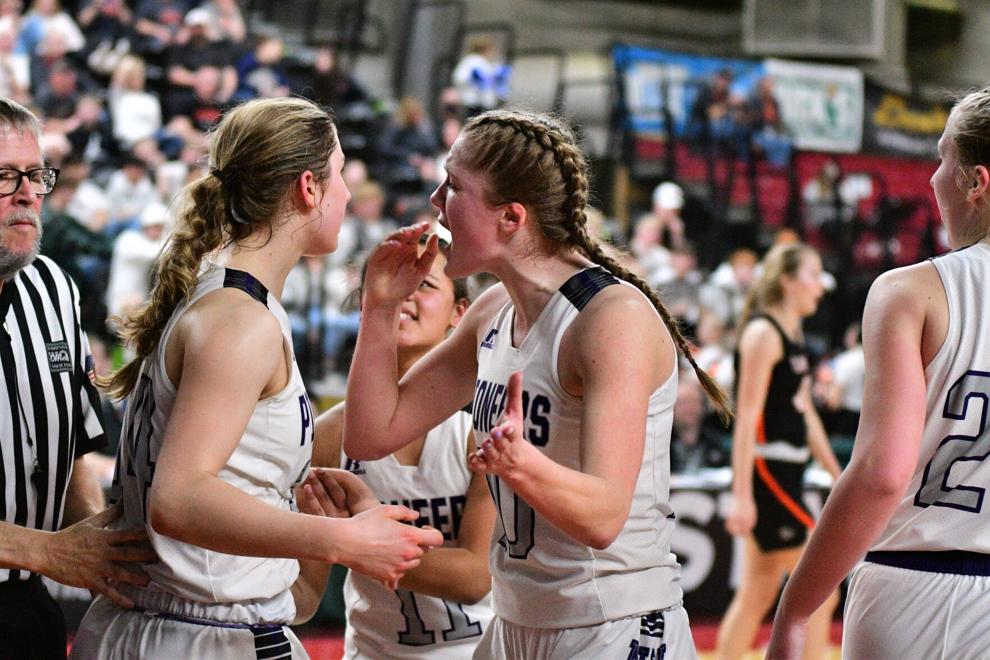 The Pioneers, who won the first matchup with Lynden Christian but lost the district championship to the Lyncs, will get another shot for the state crown.
Nooksack Valley earned a hard-fought, eventual blowout win over Cashmere to advance to the 1A state championship against LC. 
"We're excited, this is what we want. We want this matchup in the big game," said Pioneers sophomore Lainey Kimball. "We're ready to fight, we're excited to fight, and we'll just show them what we've got."
The battle with Cashmere was close early, but it quickly flipped into the Pioneers' favor.
It was tied 12-12 at the end of the first quarter, and NV managed to secure an eight-point lead at halftime, 29-21.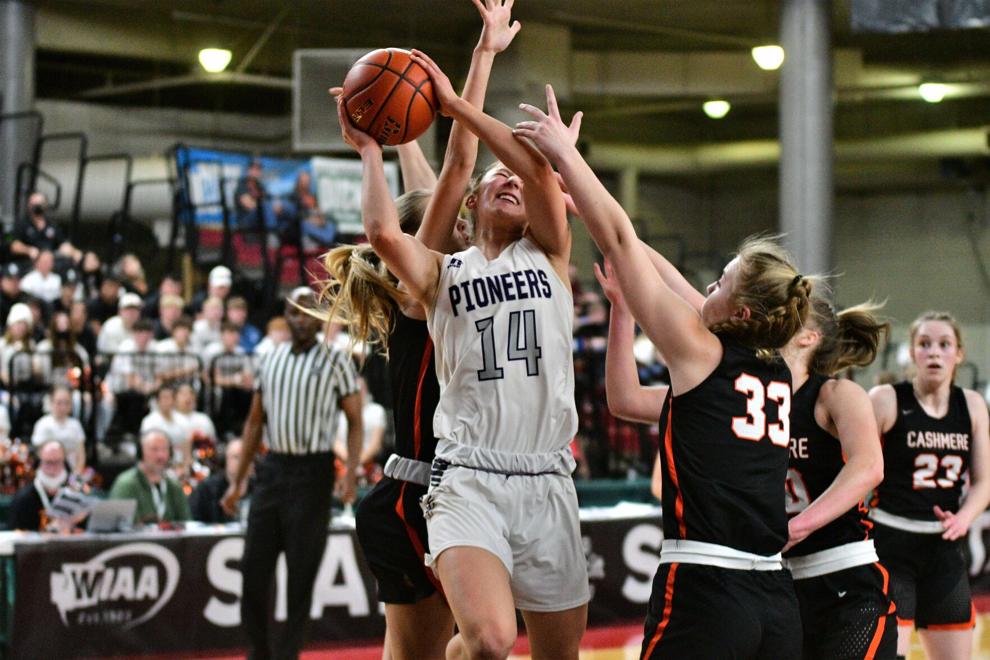 Cashmere scored the first points of the second half on a 3-pointer, but the Pioneers quickly mounted an 18-2 run that spanned until the end of the third quarter.
All of a sudden it was a 47-26 game, and the "home" team controlled the momentum.
The Pioneers kept up the pressure in the fourth, and it was smooth sailing into the 60-38 win.
Sophomore Devin Coppinger finished with a game-high 24 points, 2 rebounds and 5 steals. Kimball tallied 10 points and 2 rebounds, as junior Hallie Kamphouse totaled 9 points, 4 rebounds, a block and a steal. 
"It's been a long time since a Nooksack team's been in the state championship, so we're really excited to be here," said NV head coach Shane Wichers. "I think, perspective-wise and experience, totally excited to be here but tomorrow's a game, a big game, but then Sunday's another day."
After 26 years of coaching, Wichers is headed to his first state championship game.
"I don't want to make it sound like it's not a big deal, it is a big deal," he said. "We're trying, we're going to go out and compete like crazy and see what happens, but it's going to be fun."
Coppinger, who has been the engine that's driven the Pioneers all season-long, said it's been an experience unlike any other to get to this point.
NV will face No. 1 Lynden Christian in the 1A state championship game on Saturday, March 5, at the Yakima Valley SunDome. Tip-off is set for 9 p.m., and the ultimate victor will be determined.
"It's the final battle," Coppinger said. "I'm excited, I'm ready, we obviously can't underestimate them. We know they're good, but we also know we're good, so it's just who's going to come out as a better team and play the hardest."
2A state semifinals: No. 2 Lynden 46, No. 3 R.A. Long 44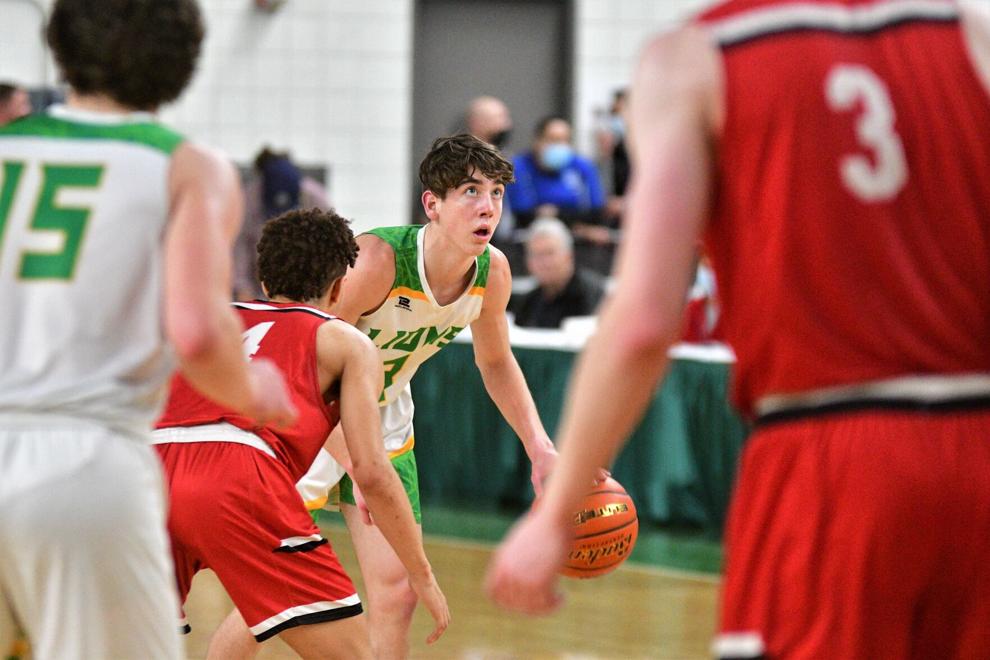 If there was a game all day that looked like both teams deserved to play for a state championship, it was this one.
"We knew we had to win the toughness battle," said Lynden's head coach Brian Roper following the 46-44 win. "Our kids were gritty, it was a tough matchup for us giving up a lot of inches to those two post guys."
The give and take from beginning to end was an incredible testament to the two squads vying for a shot at the 2A crown. Luckily for the Lions, they hung on just long enough.
Better yet, Lynden's last trip to the state tournament in 2020 ended in a semifinals loss to North Kitsap. They have succeeded that previous milestone and now are looking for their third title in four seasons.
"This is a dream come true," said Lynden senior Jordan Medcalf following the 46-44 win. "Sophomore year we fell short and I've set my goal that I want to get to the state championship, and we had a COVID year, which sucked. This year we worked real hard, and this is the turnout."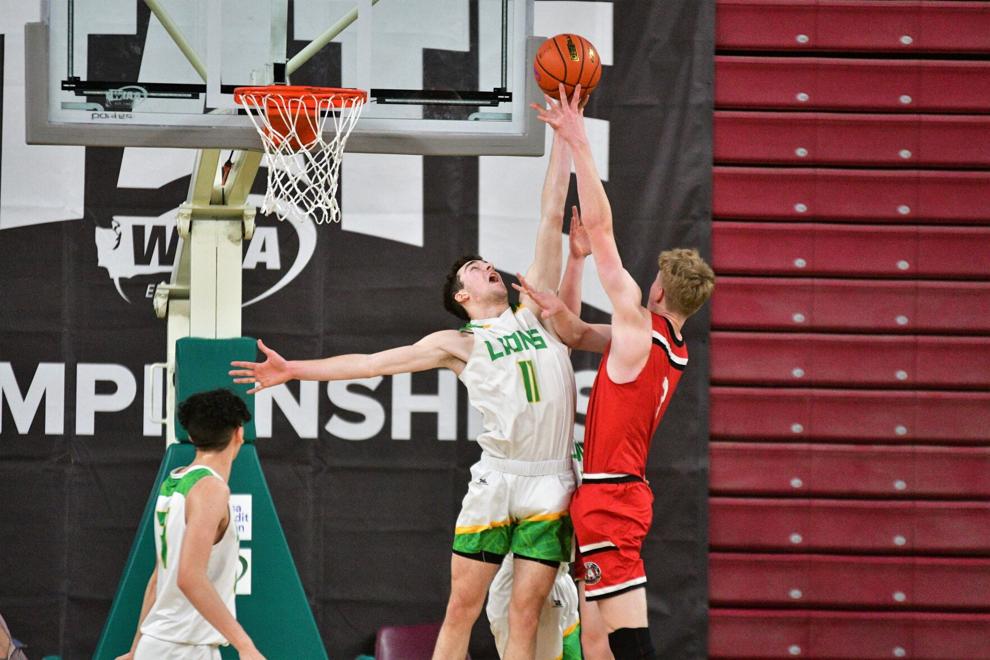 Lynden narrowly led 13-12 after one quarter. The Lions extended that lead to 27-18 in the second, but R.A. Long mounted an 8-0 run that closed the gap to one at halftime.
A hard-fought third quarter brought little scoring from either team.
R.A. Long outscored Lynden 8-6 in the period, taking a 34-33 lead into the fourth quarter. Lynden quickly responded with an 8-0 run of their own to start the final period, led by Medcalf and sophomore Anthony Canales. 
Leading 43-36 late, R.A. Long again attacked the hoop, scoring six straight. By that time it was down to the wire. Medcalf buried a free throw to make it a 2-point game.
R.A. Long would tie the game at 44, but Canales extended the lead back up to two. The Lumberjacks had a good, deep look from three at the buzzer but couldn't convert.
"We knew coming in it was going to be a hard game, we had to stay together," Medcalf said. "They went on their run, and we went on ours, and our run came out on top at the end."
The Lions won it 46-44.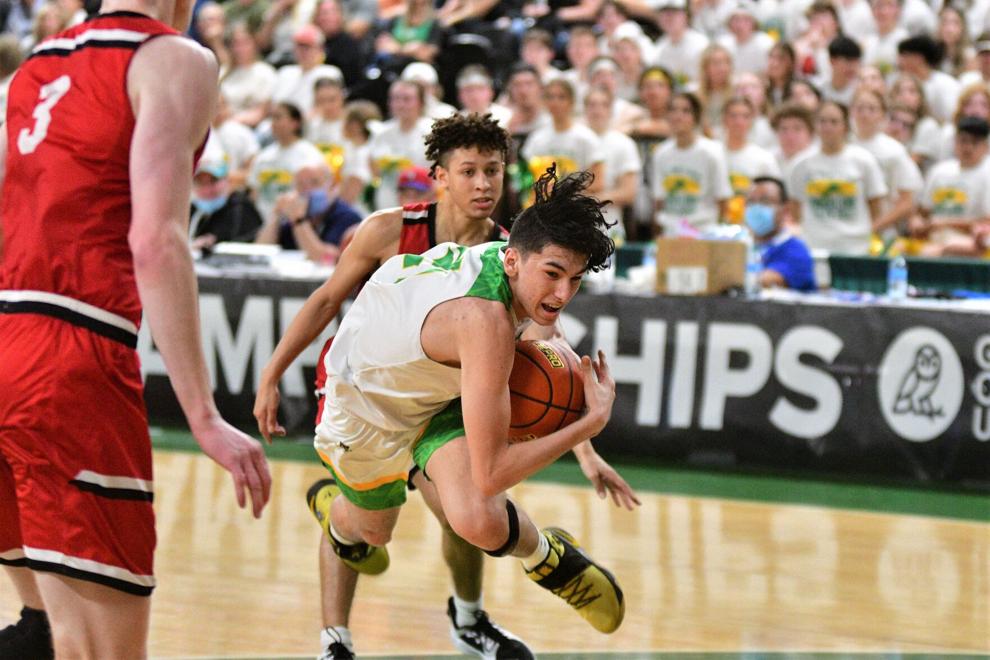 Canales recorded a double-double with 19 points, 11 rebounds and 3 steals. Medcalf matched his scoring with 19, coupled with 6 rebounds, 2 assists, 2 blocks and a steal. Junior Coston Parcher totaled 4 points and 4 rebounds to round out Lynden's notable scorers.
"I'm really excited, but I know I've got to stay humble and stay calm through it all, because if I get too excited then I'm not going to be myself," Canales said. "I'm just humble and happy to be in the place I am."
Lynden will face No. 4 Pullman in the 2A state championship game on Saturday, March 5, at the Yakima Valley SunDome. Tip-off is set for 3 p.m. for all the marbles.
"We'll enjoy it for about a half-hour," Roper said. "Then we've got a really tough game tomorrow [against] Pullman."