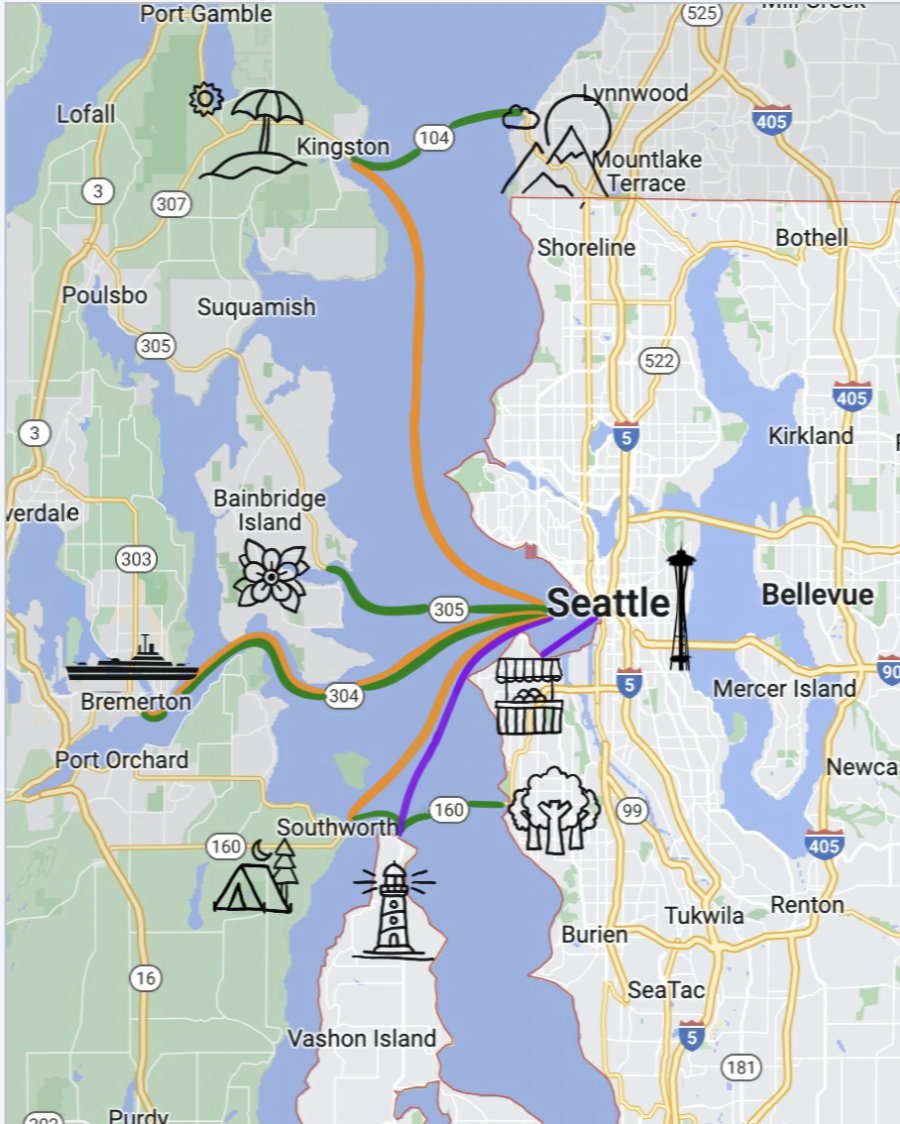 Like McDreamy, a lot of people harbor a fascination for ferry boats but don't know about the variety of destinations and activities that ferries can take them to. Within the greater Seattle area, there are four different types of ferries: the Washington State Department of Transportation (WSDOT) ferries, the Kitsap fast ferries, the King County water taxis, and the Victoria clipper.
WSDOT ferries
The WSDOT ferries are what you're thinking of when you imagine the traditional Seattle ferry system. They are the largest of the ferries and have the distinctive green trim that could be seen in the Seattle shots featured on "Grey's Anatomy." 
The Seattle terminal has boats that go to both Bremerton and Bainbridge Island. Some students commute to campus from Bainbridge Island by taking the ferry, and many do so to save money. 
"I did the math," Dante Ramirez, a third-year student majoring in statistics who commutes from Bainbridge, said. "Even if I buy one of those monthly [ferry] passes for $120, nine months out of the year for school, I would still be paying one-fifteenth of a dorm or an apartment."
A few notable places to visit on Bainbridge include Bloedel Reserve, Fort Ward Park, The Bainbridge Island Museum of Art, and The Bainbridge Island Japanese American Community's Exclusion Memorial. There are also lots of shops you can check out right next to the ferry docks. 
Elora Hoberecht, a third-year student from Bainbridge intending to major in informatics, recommends the restaurant Hi Life for its mix of outdoor and indoor seating and quick meal options.
"It's a really good place to get a poke bowl," Hoberecht said. "It's a really cozy spot."  
If you want to venture a little further inland from Bainbridge Island, Poulsbo is a perfect day destination. Poulsbo is a Norwegian town that boasts tourist shops, antique stores, and art stores. Sluys Bakery located in downtown Poulsbo is also a must for anyone that has a sweet tooth. First-year student Kathryn Floerchinger said that her favorite place to go in Poulsbo is the waterfront.
There is also the Southworth, Fauntleroy, and Vashon route out of West Seattle, as well as the Edmonds Kingston route, but these require extra transit as the ports are not located downtown.
These ferries, however, have a couple pros that the others don't: the hours are significantly extended and passengers have the ability to drive their cars onto the ferry. However, these ferries are not covered by the U-PASS. Walk-on tickets are $9.25 and car and passenger fees are either $13.20 or $16.80 depending on the size of your vehicle. 
If you want to feel the typical Seattle experience of taking the ferry, the WSDOT ferries are definitely for you. However, if your main focus is to explore the destinations rather than just riding on the boat itself, I recommend the other ferry systems.
Kitsap fast ferries
If you are looking to travel to Southworth, Kingston, or Bremerton, I highly recommend the Kitsap fast ferry system. These ferries are foot traffic only, yet they are significantly speedier than the larger WSDOT boats. They are also fully covered by the U-PASS, so there is no out-of-pocket-fee to ride. 
Bremerton is a navy town, so many of the activities are related to naval operations. Some things to do in Bremerton include visiting the USS Turner Joy, the Puget Sound Navy Museum, and The Harborside Fountain Park. Similar to other locations, there are also a variety of stores and restaurants.
One of the downsides of these ferries is that they run on a first come, first serve basis. The boats are much smaller and have fewer passenger seats, so if you want to take the Kitsap fast ferry, I recommend arriving at the terminal early. The other downside is that these ferries have limited hours. Their main function is to be a commuter ferry, so they run anywhere from 4 a.m. to 8 p.m., but have a large gap of no service in between.
King County water taxi
The King County water taxi is similar to the Kitsap fast ferries. It has two destinations, West Seattle and Vashon Island, and is also covered by U-PASS. In West Seattle, some of the activities include Alki Beach Park, the West Seattle Farmers Market, the Seattle Chinese Garden, and the Log House Museum.
In Vashon, people can visit the Point Robinson Lighthouse, hike one of the many trails the island has to offer, visit the local downtown, or rent a bike to tour the island.
The Vashon Island ferry route has a moderately limited schedule, with six total sailings at peak commuting times with a large gap in the middle. The West Seattle route has a much more extended schedule, but be aware that the schedule changes depending on what day you plan to sail.
The Victoria clipper
The Victoria clipper is a bit different from the other ferries. It is a much longer trip and requires a passport because it takes you to Canada, but it's the perfect destination for a long weekend or quick getaway.
The clipper costs between $115-160, and takes a little under three hours. It is a fast ferry, and features three levels of service similar to those that would be found on an airplane. The biggest downside about the clipper is that it only runs once a day, so you need to plan your trip around departure and arrival times.
In Victoria, visitors can go to the Butchart Gardens, the Royal BC Museum, Miniature World, and have tea at the Fairmont Empress. There are also castles and parks nearby that visitors can explore.
The next time you have a free weekend and want to get out of Seattle, remember the ferries. You may find your new favorite destination. 
Reach writer Taylor Bruce at pacificwave@dailyuw.com. Twitter: @Tay1or_marie9
Like what you're reading? Support high-quality student journalism by donating here.