52 min ago
Macron and Putin agree on trilateral talks "in next hours," Élysée Palace says
From CNN's Martin Goillandeau
French President Emmanuel Macron and Russia's Vladimir Putin agreed on Sunday on "working intensively to enable a meeting of the Trilateral Contact Group to be held in the next few hours," the Élysée Palace said in a readout of the call on Sunday.
The Élysée readout said the aim of the meeting would be to "obtain a commitment from all parties to a ceasefire on the line of contact." 
The Trilateral Contact Group includes representatives from Ukraine, the Russian Federation, and the Organization for Security and Co-operation in Europe (OSCE).
Per the statement, the two leaders agreed on the need to "give priority to a diplomatic solution to the current crisis and to do everything possible to achieve it."
The French presidency said that "intense diplomatic work" would be carried out "in the coming days and weeks," with French Foreign Minister Jean-Yves Le Drian and his Russian counterpart Sergey Lavrov to meet soon.
The two leaders "noted differences in interpretation of the reasons for the deadlock" in the negotiations over the Ukraine crisis, an Elysee source said.
"Mr. Putin blames the impasse in negotiations on Ukraine, whereas the president of the Republic reminded him that Ukraine would not negotiate with separatists directly," the source added.
The Élysée Palace said that diplomatic work "should make it possible to progress on the basis of the latest exchanges by associating all stakeholders," in order to reach "a meeting at the highest level with a view to defining a new peace and security order in Europe."
It added that Macron and Putin had made "firm commitments to take all useful actions to avoid escalation, reduce risks and preserve peace" to carry out this work "under serious conditions."
1 hr 8 min ago
Pentagon press secretary says "we still think there's time to prevent" a Russian invasion of Ukraine
From CNN's Sarah Fortinsky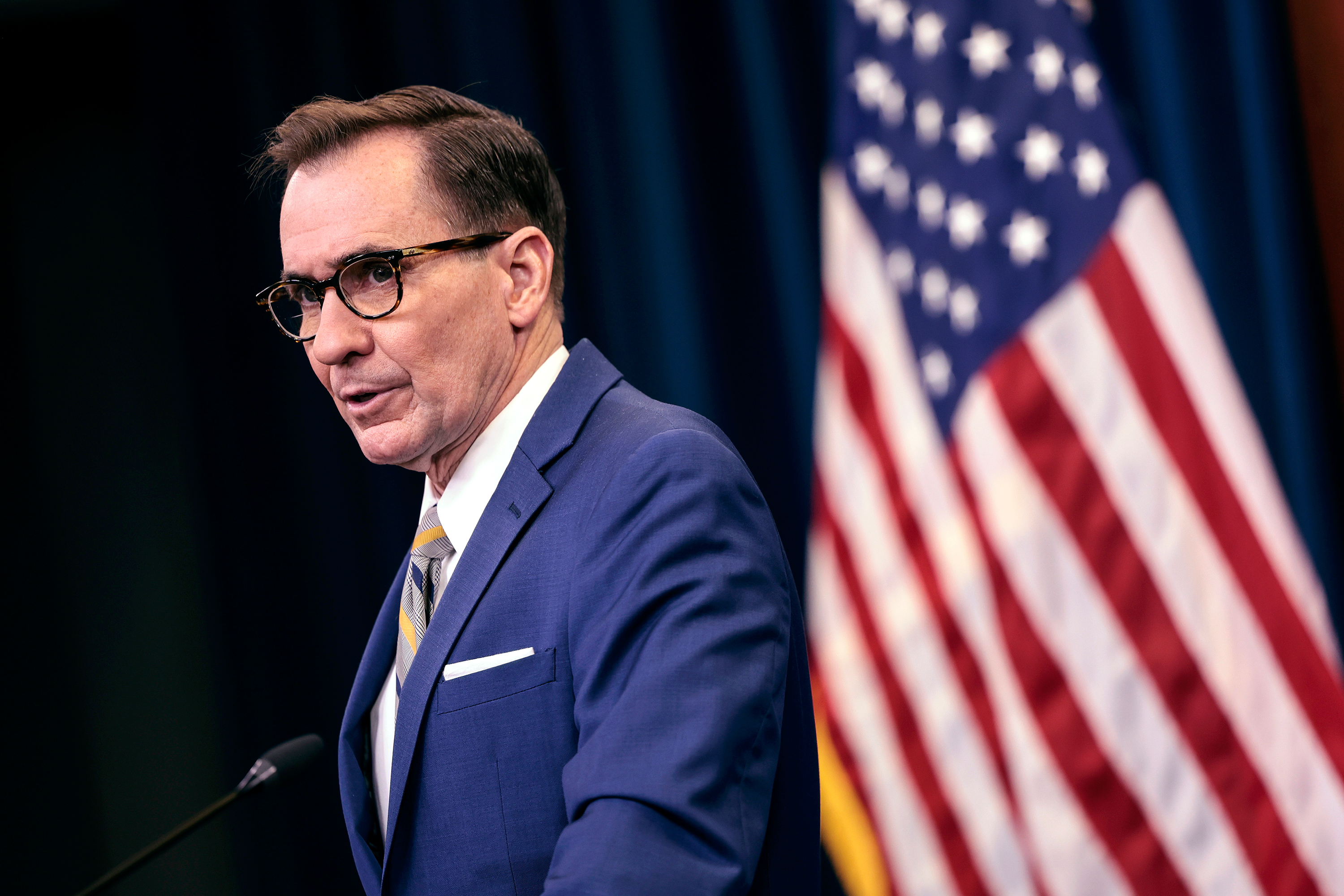 Pentagon Press Secretary John Kirby doubled down on the Biden administration's strategy of using the threat of sanctions as a deterrent and rejected increased calls for imposing pre-invasion sanctions, saying, "[Russian President Vladimir Putin] has not conducted another invasion in Ukraine yet, and we still think there's time to prevent that."
"It's supposed to be a deterrent. If you punish somebody for something they haven't done yet, then they might as well just go ahead and do it," Kirby added. "And we're hoping that that could affect the calculous of Mr. Putin."
Kirby said on Fox News Sunday that Putin still has many options on the table if he chooses to take a diplomatic off-ramp to the tensions, saying, "We have made serious proposals and talked about changing, for instance, the scope and scale of some of our exercises in Europe, being willing to talk about offensive missile capabilities in Europe. We have certainly put forward other proposals to try to convince Mr. Putin that we're serious."
Kirby made clear the issue of Ukraine's membership in NATO, however, is "an issue for Ukraine and for NATO. That is not something that Mr. Putin can simply institute a veto over or decide for himself, that kind of thing is again between the alliance and Ukraine."
Some context: Kirby would not address individual claims made by Putin, but he characterized them as "outrageous claims" and said, on the whole, "these are just not credible."
He said that Putin is "playing the victim," which he said is exactly out of the "Russian playbook."
"It is absolutely right out of the Russian playbook. He may be moving Xs and Os around the field right now militarily, but it seems like he's using the same old playbook," Kirby said, adding, "And I don't want to make light of this analogy. This isn't a football game. This is potentially war and lives are at stake here." 
46 min ago
Roughly 75% of Russian conventional forces deployed against Ukraine, US official says
From CNN's Jim Sciutto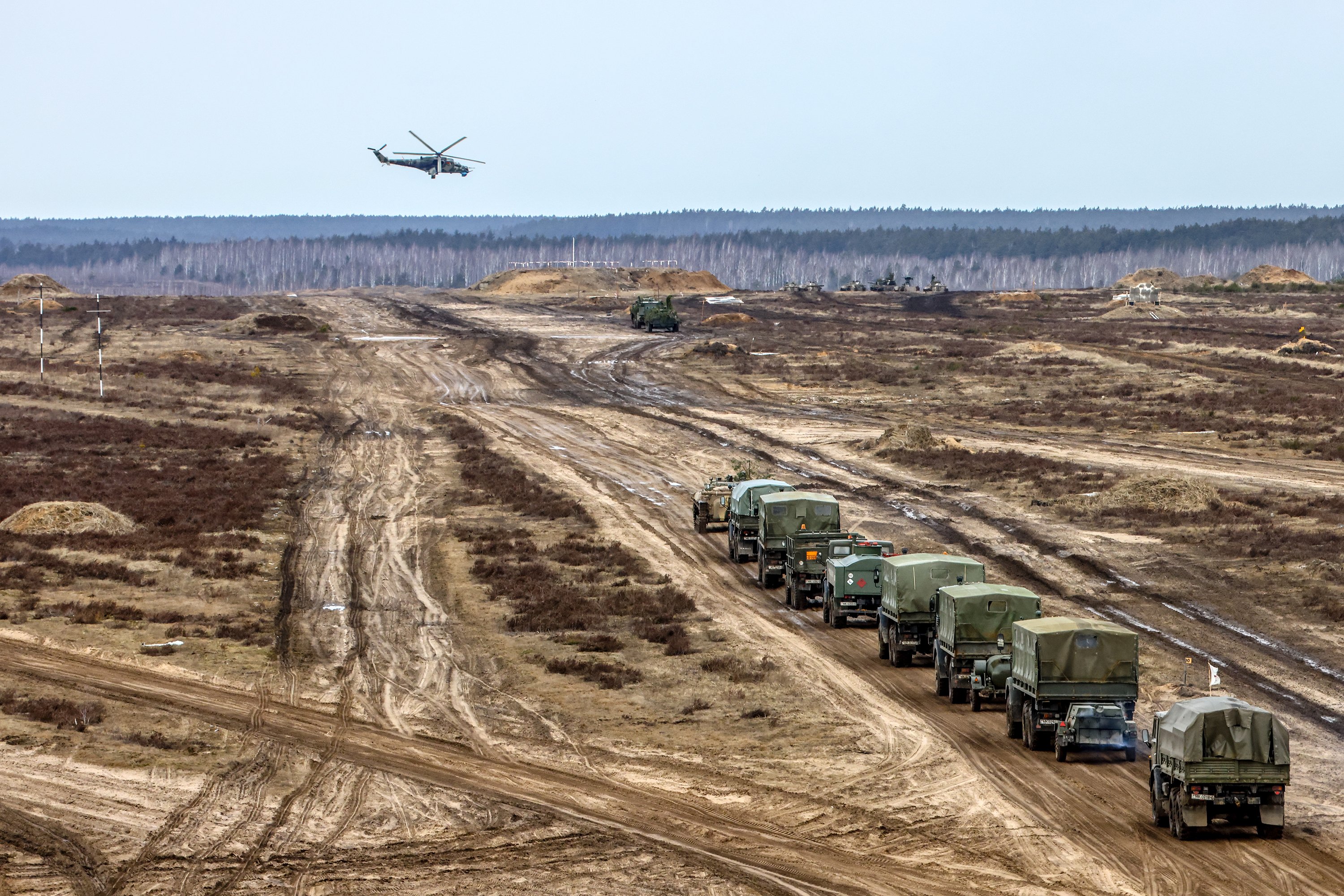 According to the latest US intelligence assessment, Russia now has close to 75% of its conventional forces postured against Ukraine, a US official with direct knowledge of the intelligence told CNN. 
The concentration of forces within striking distance of Ukraine is highly unusual and part of the reason the US believes Russia is ready to attack, the official said.
This includes some 120 of Russia's total estimated 160 Battalion Tactical Groups or BTGs which are positioned within 60km of Ukraine, according to the official. While that figure represents 75% of Russia's principal combat units, it is less than half of the total troops in the Russian military.
US officials have reported that Russian troops combined with separatist forces could be as high as 190,000 deployed around Ukraine.
Some 35 of 50 known air defense battalions are deployed against Ukraine. In addition, the US estimates some 500 fighter and fighter-bomber aircraft are within range of Ukraine, as well as 50 medium to heavy bombers.
Together, the Russian forces now vastly outnumber Ukrainian military forces, according to the assessment. 
To note: CNN cannot independently verify the intelligence.
On Thursday, the British Ministry of Defense tweeted an assessment that said, "Russia has over half of its ground combat power near the Ukrainian border."
1 hr 12 min ago
Finland's president sees current situation "colder" than during Cold War
From CNN's Chandelis Duster
President Sauli Niinistö of Finland told CNN Sunday that the world is "almost in a colder situation" than the actual Cold War era as tensions between the US and Moscow have reached a boiling point amid fears Russia will invade Ukraine.
"Then, we had at least some agreements between the United States and Soviet Union, limiting arms and so on," he told CNN." "Now we do not have actually anything, no agreements anymore. So, this makes the situation, in my opinion, much more vulnerable."
President Biden has said he is convinced Russian President Vladimir Putin has decided to invade Ukraine, with his secretary of state, Antony Blinken, telling CNN on Sunday that the "playbook" for invasion is moving forward.
Recent shelling in eastern Ukraine and a vehicle blast in separatist-held Donbas has raised fears that Putin could be inciting violence to justify an invasion.
When asked if he thought an invasion would happen, Niinistö told CNN there were three possibilities.
"First one is that somehow they could settle the issue of eastern Ukraine, Minsk agreement and all that. I think it's far away. Then second option is that we will see a full-scale war," he said. "And the third one, which is as bad, is that we see this kind of, like I described, two steps forward, one back, that is increasing tensions all the time. And the third one might at the moment, I would say, that might be the nearest one at least."
2 hr 24 min ago
Finland's president says he does not fear that Putin would invade his country
From CNN's Chandelis Duster
President Sauli Niinistö of Finland said Sunday that he is not afraid his country could be next as Russian President Vladimir Putin increases military buildup around Ukraine.
"We are not afraid not at all," Niinistö told CNN regarding his country which borders Russia to its north. "Actually, the situation in Finnish borderline and in whole Baltic Sea area is now quite peaceful. We are not afraid of Russian tanks, tanks suddenly crossing Finnish border."
1 hr 2 min ago
Acting US ambassador says she hopes Putin will ultimately decide on a diplomatic path in Ukraine
From CNN's Ali Main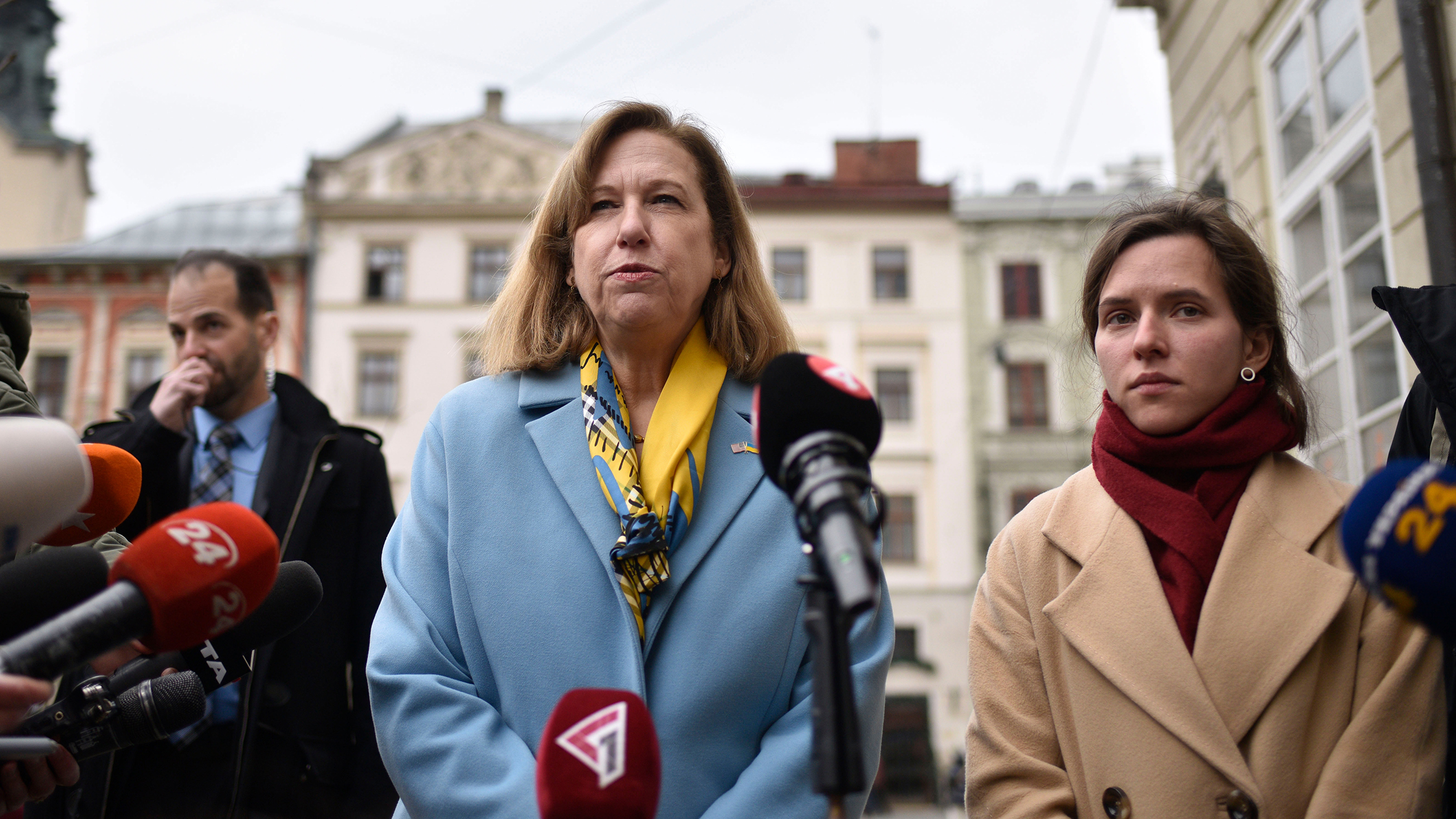 Acting US Ambassador to Ukraine Kristina Kvien expressed hope on Sunday that Vladimir Putin could ultimately decide not to invade Ukraine, despite President Biden's assessment the Russian leader has made up his mind to do so.
"Despite President Putin's continued buildup of troops on the border, aggressive rhetoric, and now false flag operations and flooding of disinformation globally, we still hope and wish that President Putin would make the decision to take the diplomatic path," she said in an interview on ABC.
Kvien said it would be an "easy decision" for Putin to choose to take a path laid out by the US in communications with the Kremlin, and "we're hoping and urging him to do it."
The US diplomat said she agrees with Biden and other top administration officials' determination that Putin has made up his mind and is "likely" to move in on Ukraine, but that doesn't mean his decision is final.
"It doesn't mean President Putin can't change his mind. But I do think that right now, he's moving towards a large-scale invasion," she said.
Kvien noted the refugee crisis that could occur in Europe after an invasion of Ukraine, saying it would be "destabilizing."
2 hr 48 min ago
Blinken to meet with Russian foreign minister "provided Russia doesn't invade Ukraine"
Secretary of State Antony Blinken said on CNN that he's planning to meet with Russian Foreign Minister Sergey Lavrov this week "provided Russia doesn't invade Ukraine in the interim."
"If [Russia] doesn't invade, I will be there. I hope he'll be there, too. I will do everything I can to see if we can advance a diplomatic resolution to this crisis created by Russia and its aggression against Ukraine," Blinken said.
He noted that the US "put on the table a number of ideas that we can pursue that would strengthen security" for Russia, the United States, and the rest of Europe.
"That's the conversation I welcome having with Foreign Minister Lavrov. It depends entirely on if Russia invades or not," Blinken said.
2 hr 48 min ago
US will use "every opportunity and every minute" to deter Russia from invasion, Blinken says
Secretary of State Antony Blinken told CNN that the US is prepared to do everything it can to prevent Russia from invading Ukraine
Blinken reiterated President Biden's concerns that Russia has already set invasion plans in motion.
"As we described it, everything leading up to the actual invasion appears to be taking place," Blinken said. "All these false flag operations, all of these provocations to create justifications. You heard President Biden say this the other night. We believe President Putin has made the decision, but until the tanks are actually rolling and the planes are flying, we will use every opportunity and every minute we have to see if diplomacy can still dissuade President Putin from carrying this forward."
2 hr 50 min ago
US Secretary of State says he remains concerned about a Russian invasion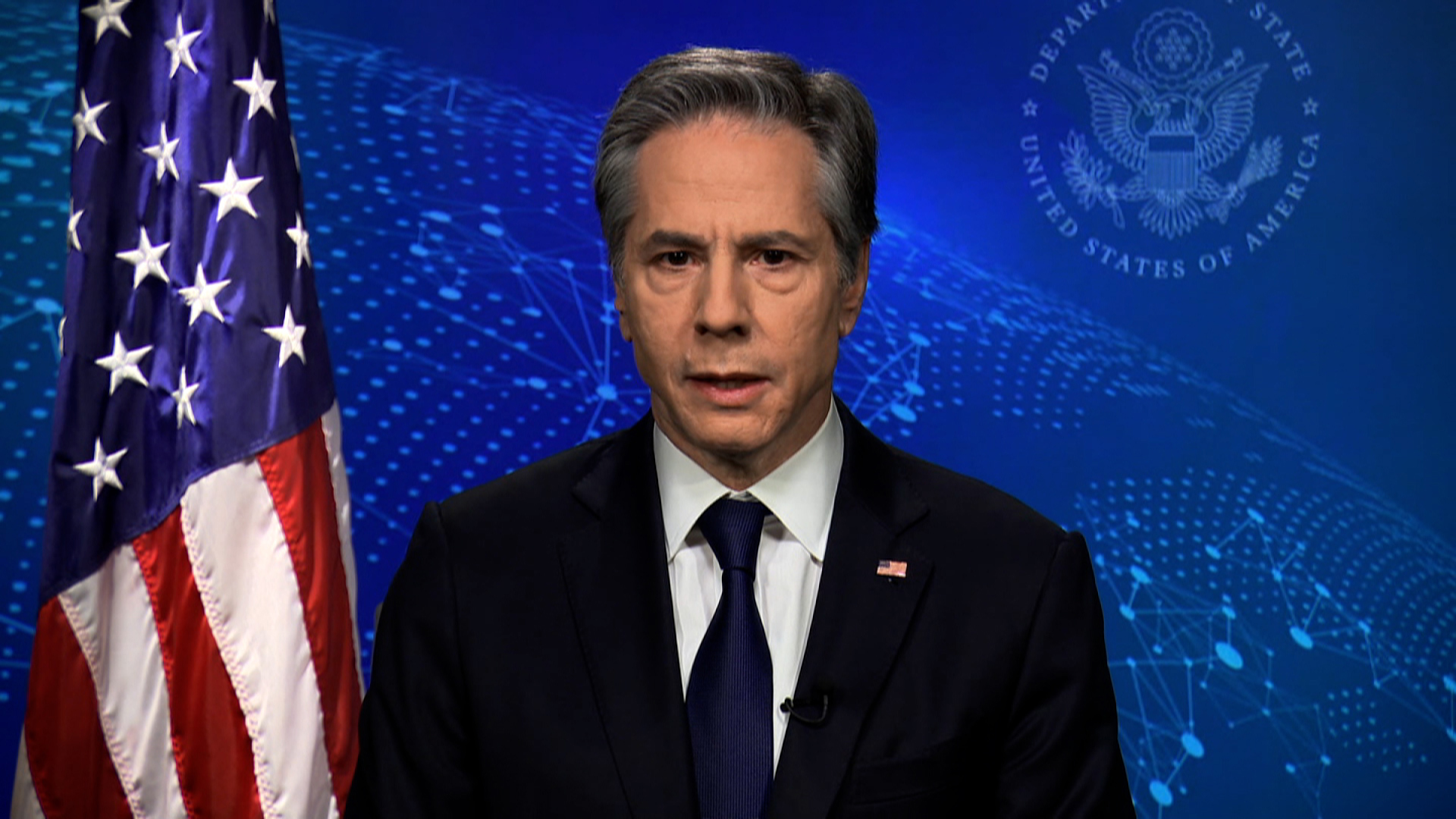 US Secretary of State Antony Blinken said he was concerned about reports that troops from Russia and Belarus will continue joint military exercises past their planned end date as the thread of a Russian invasion looms large.
"It tells us that the playbook we laid out, I laid out at the UN Security Council last week about Russia trying to create a series of provocations as justifications for aggression against Ukraine is going forward," Blinken told CNN.
Blinken continued: "We've seen that over the last few days. Now they're justifying the continuation of exercises, exercises in quotation marks that they said would end now. The continuation indefinitely of those, quote, unquote, exercises, on the situation in eastern Ukraine, a situation that they created by continuing to ramp up tensions."
Blinken noted that Russia has been "escalating the forces they have across Ukraine's borders over the last months, from 50,000 forces to 100,000 to now more than 150,000." 
"So all of this along with the false flag operations we've seen unfold over the weekend tells us the playbook we laid out is moving forward," he said.